As some of you may be already aware, on I'll speak at Codemotion Madrid with a talk titled People don't give a f**k of JavaScript. If you didn't know it, it's because you don't follow me on Twitter and you're a bad guy or girl. Anyway, to celebrate this event, Packt Publishing and I decided to offer some free copies of my first book Instant jQuery Selectors.

How to Participate
The procedure to participate is really straightforward. Just leave a comment on this post with your name and the email address, to have the chance to win one of the copies of my book. A person can win just one of the prizes available, and multiple emails for the same user are not allowed.
For those who have concerns about the privacy, I want to recall that the email address is not public, so I'll be the only one to read it. The email address is mandatory because I need a way to contact you in case of winning.
The prizes
The prizes we're offering are 2 print copies of the book. The winners of one of the printed copies available, will receive it for free to an address of their choice. Please note that the shipping is free as long as the address is within USA or Europe.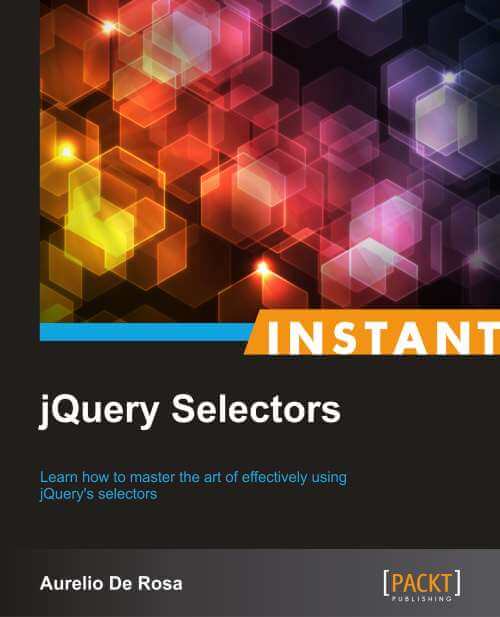 How the Winners are Selected
The winners will be selected using the Random.org list randomizer, an external service that provides random sorting of list. What I'll do is write the name of the participants in the order they posted the comment and then run the randomizer. The first two (2) people in the randomized list will win one of the print copies, then the following three (3) will receive one of the digital copies of my book Instant jQuery Selectors.
Note
Please, play nice and keep your fingers crossed. I don't have the tools to discover people cheating. I'll do my best to keep this giveaway as clean as possible but we all know this is impossible. So, the message is: don't add you multiple times or use fake account.
The Winners
The winners of the giveaway are:
Thank you for participating.
Codemotion Madrid 2013 Giveaway: Win a Free Copy of Instant jQuery Selectors